Thomas A. Britton
1940-2002

Tom Britton passed away August 16. He played a singular role during the infancy of commercial digital audio, being perhaps the first person to produce high-quality digital recordings from a small family enterprise, Chalfont Records. Tom was its executive producer, and oversaw the recording, editing and release of a dozen or so digital recordings between 1979 and 1981, when few such recordings had yet been made.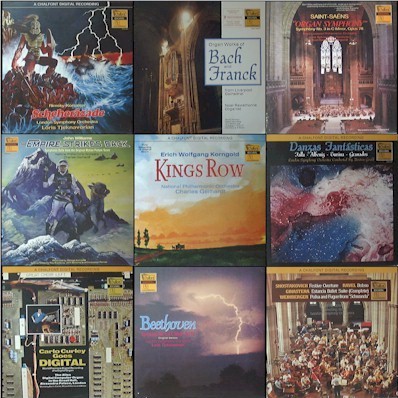 Chalfont digital recordings, as released on LP
Tall and thin, Tom was filled with southern grace and wry humor. He enjoyed working with us at Soundstream, a company that developed digital audio technology and helped bring some of the first digitally recorded disks to market.
Tom was fascinated with the technology, knowing the digital recordings would capture unprecedented dynamic range. He would hover by our recorder to ensure its levels were sufficient to light the top LED at least once or twice (but not more) during a session. He knew our recorder had a frequency response to zero, and was excited to see on our computer screen a resultant 8 Hz note recorded at the Liverpool Cathedral. He included the following snapshot and liner notes.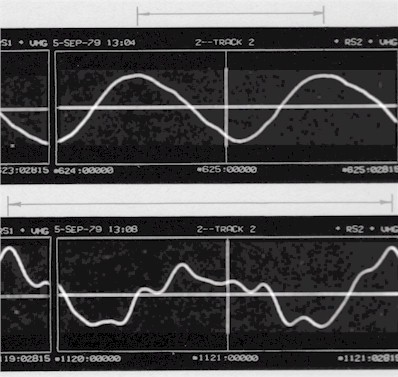 The 64-foot Resultant Bass is derived from the 32-foot Double Open Bass and creates a pitch an octave lower by "beating" the frequency of two pipes a fifth apart against one another. The digital displays above clearly show the 16 Hz 32-foot CCCC and the complex wave form of the resultant 8 Hz 64-foot CCCCC with its wave peak twice the length of the 32-foot tone. The listener will hear the 16 Hz tone in both examples but, with adequate amplifier and speaker capabilities, the 8 Hz tone will be felt.
Figure and caption from Liverpool Cathedral organ recording
Tom made recordings of the Mexican State Orchestra, conducted by the flamboyant Enrique Batiz; and he recorded the London Symphony with the esteemed composer Morton Gould.
Chalfont Records released the first recordings of two motion picture soundtracks. The Empire Strikes Back (second of the Star Wars epics) was released in 1980.
Of technological interest is the 1979 recording of the magnificent soundtrack to Kings Row, a 1940 movie that starred Ann Sheridan, Claude Rains, Robert Cummings and Ronald Reagan (in what is considered his most memorable film role). Tom worked with producer George Korngold to record the music written by his father, celebrated film composer Erich Wolfgang Korngold.
The Kings Row recording features the first digital audio cross-fades (unlike the far shorter splices used previously), as the music was recorded in dozens of sections and then knit into a seamless orchestral suite.
Originally released in LP form, many of the Chalfont recordings have been re-released as CDs on the Klavier and Varese-Sarabande labels.
Tom spent his home days in a country setting near Montgomery, Alabama, far from the orchestras of Liverpool, London, and Mexico City. He was fond of his dogs, one named Sugar. He nursed an injured bird on his property back to health and over the years would care for those that his friends might bring him.
Tom had a love of astronomy, serving as director of the Montgomery Planetarium for several years. He loved science fiction, going so far as to write a very readable book, The Red Giant, a space adventure set near Jupiter.
Tom is deeply missed.
Jules Bloomenthal
Seattle